Hungary's hardline stance on refugees 'benefits' people smugglers
Comments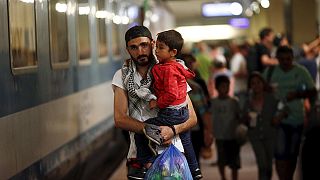 Campaigners for migrants' welfare in Hungary say the government's hardline stance towards refugees is costing the country a fortune.
They have called on the authorities to allow people to travel to the countries they want to reach – saying their refusal to do so is simply playing into the hands – and putting cash into the pockets – of the human traffickers.
"Over a period of ten days the Hungarian state put as much money into the pocket of the black economy as it spent on refugees altogether last year. I don't know in whose interest this is but it would be good to stop it," said Zsuzsanna Zsohár of Migration Aid.
Will #Hungary be yet one more nail in the coffin of the #DublinIII regulation? #refugees#migrantcrisis#EU#Schengen

— Migszol Csoport (@MigSzolCsop) August 31, 2015
One estimate has put the costs of accommodating and processing refugees, plus the massive security expense, at 270 million euros.
The only ones to make money from the desperate travellers are the people smugglers.
But the government says they cannot let people go.
"This is not our choice but the responsibility of every European country, especially those who are guarding the Schengen border. Hungary's being blamed for something which is not only important to save its borders, but the borders of the European Union," said Hungarian government spokesman Zoltán Kovács.
The government insists that it, not the EU, incurs most of the cost of dealing with migrants and refugees.
Processing asylum seekers' claims takes time, it argues, and until that's done, people can't leave the country legally.
The vast majority of the recent arrivals remain intent on reaching other European destinations.