French PM Valls urges EU solidarity amid unprecedented migrant crisis
Comments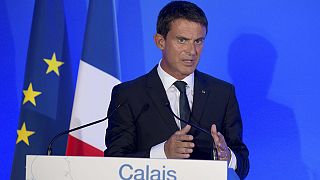 EU nations must stand together in tackling the migrant crisis and provide a safe haven for those fleeing war and oppression.
The whole of Europe is concerned by this crisis of exceptional gravity
That was the message from French Prime Minister Manuel Valls on Monday as he visited the northern port of Calais, itself a migration hot-spot where thousands seeking to cross the Channel to Britain are living in deplorable conditions.
"The whole of Europe is concerned by this crisis of exceptional gravity," Valls told a news conference in the town.
"It must get its act together. There must be close cooperation between the European Commission and member states as well as candidate members."
"We need to go even further," added European Commission First Vice-President
Frans Timmermans, also visiting Calais along with Dimitris Avramopoulos, the European Commissioner for Migration.
"We need a permanent mechanism for the distribution of asylum seekers, what is called resettlement, that we can activate every time there is a crisis, not under normal circumstances but when there is a crisis."
The European Commission used the news conference to announce extra funds of
up to five million more euros for France, partly for a new migrant camp for around 1,500 people to be built at Calais, with more humane conditions.
A Calais, bientôt un nouveau camp de migrants http://t.co/xGcjAtWpI4pic.twitter.com/ItQXSLtsdA

— Libération (@libe) August 31, 2015
As for the broader crisis, the EU has so far failed to find a common approach, with talks this summer unable to reconcile differences.
An emergency meeting – albeit two weeks from now – will aim for a more unified outcome.