Azerbaijan: journalist jailed for "political" reasons
Comments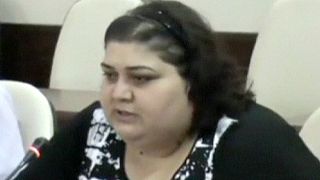 A prominent journalist, known for exposing corruption among the governing elite in Azerbaijan, has been sentenced to seven-and-a-half years in jail.
39-year-old Khadija Ismayilova was found guilty of a range of economic offences, including embezzlment and tax evasion.
Her supporters say the case is politically motivated.
The leader of the Musavat opposition party,Arif Khacili, says Ismayilova was arrested for criticising President Ilham Aliyev's government. "She is one of the most popular journalists in Azerbaijan," he went on. "83 political prisoners are currently being held in this country."
Ismayilova was employed by the US government-funded Radio Free Europe.
She investigated government corruption and human rights abuses in Azerbaijan.
Her lawyer says she plans to appeal.