Tributes pour in for horror filmmaker Wes Craven
Comments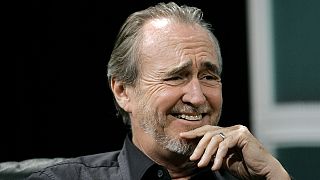 Tributes have been paid to the US horror filmmaker Wes Craven, who's died in Los Angeles at the age of 76.
Twitter has been flooded with comments in appreciation of one of the pioneers of so-called slasher films.
"Today the world lost a great man, my friend and mentor, Wes Craven. My heart goes out to his family," actress Courteney Cox, who starred in Craven's 1996 "Scream" and appeared in the franchise's three subsequent films, posted on Twitter.
Actress Rose McGowan, who was also featured in the original "Scream," said on Twitter: "Shedding tears now. A giant has left us."
Devastated to hear the news. Wes was a great friend, fine director and good man. Giant loss. Much too soon. http://t.co/3XnIn8UNIF

— John Carpenter (@TheHorrorMaster) 31 Août 2015
Can't believe the news. Heartfelt sadness and deepest condolences with the passing of Wes Craven. Truly one of my biggest inspirations. #rip

— James Wan (@creepypuppet) August 31, 2015
Wes Craven shot to the top of the slasher genre with "A Nightmare on Elm Street" in 1984.
The franchise spawned a small industry of sequels, TV series and books.
The film cost less than $2 million but became a box office bonanza, earning more than ten times as much. Robert Englund starred as Freddy Krueger, a clawed villain who taunts a group of youths through their dreams.
With the later "Scream" series he achieved similar success. The formula was similar: another teens-in-peril drama but one which also satirized the genre.
In 2005 Wes Craven was asked how he overcame the challenge of being able to "scare people over and over and over again".
"You kind of have to know what the audience is thinking, and know where their fears are," the director replied. "I've always felt like what I am afraid of is basically what the audience is afraid of, so you just talk about it, play with it, you know? Oddly enough, these are very serious things in real life but in a film you can kind of deal with it in a way that it has a resolution at the end that you have some control over," the director replied.
Craven's first feature "The Last House on the Left" has also achieved cult status among horror film fans.
Others now deemed classics include "The Hills Have Eyes" and "Swamp Thing".
A family statement said Craven had been suffering from brain cancer.
Despite his illness he had been working on a new film "The Girl in the Photographs" which is due to premiere at next month's Toronto Film Festival.
Today the world lost a great man, my friend and mentor, Wes Craven. My heart goes out to his family. x

— Courteney Cox (@CourteneyCox) August 31, 2015
Shedding tears now. A giant has left us. #wescraven#always#liveonpic.twitter.com/t3ituQLgV1

— rose mcgowan (@rosemcgowan) August 31, 2015