Arrest warrants issued for two new Bangkok bombing suspects
Comments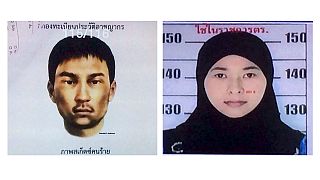 Police investigating Thailand's deadliest bombing have issued arrest warrants for two suspects: a 26-year-old Thai woman and a foreign man in his 40s.
The female allegedly rented a room occupied by the man.
Police allowed media to watch as they searched rooms. Many residents were also present.
The arrest warrants were issued after raids on two properties over the weekend uncovered bomb making materials including fertiliser, digital watches, and an explosive detonator, as well as explosives and stacks of passports.
The explosion happened two weeks ago close to Bangkok's popular Hindu Erawan Shrine. Twenty people were killed in the blast and more than 100 others were wounded.
Foreign tourists were among the casualties.