Destination northern Europe: thousands make daily 'journey of death'
Comments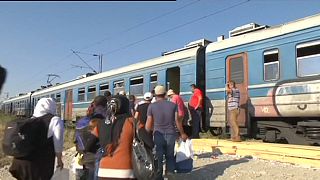 It's being called the 'journey of death.' Those who manage to make it through to Europe from Africa and the Middle East often face further struggles as they attempt to reach their final destination.
Budapest, Hungary
Hundreds of refugees in Hungary have reportedly been stuck at a railway station in the capital for days, waiting to go to Germany.
On August 25, Berlin announced it will no longer send away Syrian refugees and will process all asylum claims received from Syrian nationals. It became the first country to suspend the Dublin Regulation, which forces refugees to seek asylum in the nation where they first arrive.
Hungary has announced it has finished building a fence blocking access to part of its southern frontier.
Hungary: Razor wire fence fails to halt migrant and refugee influx into EU http://t.co/n7Kjyt0ZVJpic.twitter.com/p7oxTzL9cB

— euronews (@euronews) August 28, 2015
The Balkan route
The United Nations (UN) estimates around 3,000 people per day will soon be moving along the Balkan route towards the borderless Schengen Zone. According to the Macedonian government, on Saturday (August 29) alone some 2,500 people took a train towards the northern border with Serbia.
The Balkan route taken by migrants. Read more in our analysis: http://t.co/bRw6PS97Y5#migration#Macedoniapic.twitter.com/m6hBC62Ejr

— OSW Warsaw ThinkTank (@OSW_eng) August 28, 2015
Western Balkan route opened after #Macedonia adopted the humanitarian law of 72 hours to regulate the flow of migrant pic.twitter.com/m1hHQlaKKh

— 3 (@ta33ec) August 28, 2015
Most start the route in Greece, where daily ferry loads of migrants enter Athens from nearby islands.
The UN's refugee agency (UNHCR) has appealed to all governments "to act with humanity and in accordance with their international obligations."
In images
Opnieuw zeer actueel: ons dossier over de #Balkanroutehttp://t.co/d85NHIgDSLpic.twitter.com/rH5oBBp2Ed

— MO* (@mondiaalnieuws) August 24, 2015
Part 5 of The Longest Journey takes us to the border of Serbia and Hungary http://t.co/4hrRfSn2t2pic.twitter.com/kKWsAUZILw

— euronews (@euronews) August 28, 2015
Follow @jamesfraney for the latest on The Long Journey of migrants through eastern Europe http://t.co/lhL3xuug8ypic.twitter.com/a8hjpSOc2v

— euronews (@euronews) August 28, 2015
Young Syrian refugees hope for a better future in Germany: The long journey, part 4 http://t.co/F498eERkcmpic.twitter.com/BGmQy2hABR

— euronews (@euronews) August 26, 2015