'Iranian expansion' warning from Yemen's exiled president Hadi
Comments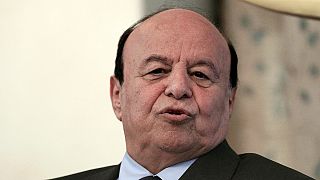 Yemen's exiled president has warned of 'Iranian expansion' in the Middle East.
Abd-Rabbu Mansour Hadi was speaking on a visit to Sudan, once seen as close to Tehran but now on the side of the Saudi-led bombing campaign against Yemen's Iranian-allied Houthi rebels – a campaign aimed at returning President Hadi to power.
"Iranian expansion is now in Iraq, Syria and Lebanon," said Hadi, standing beside Sudan's President Omar Hassan al-Bashir.
"When the Houthis entered Sanaa, they said they had occupied four capitals in the Arab world."
Hadi fled to Saudi Arabia – Iran's big regional rival -after leaving Yemen in March as the Houthis closed in on his refuge in Aden.
Militias and army units loyal to him have made significant gains towards the Houthi-
controlled capital, Sanaa.
Reports from the northern Yemeni province of Hajjah on Sunday say an airstrike by the Saudi-led coalition has killed at least 36 civilians working at a bottling plant.
Over 4,300 people have died in five months of war in Yemen while disease and suffering in the impoverished country have spread.
More than 1,000 children have been killed or injured, and the number of young people recruited or used as fighters has soared, the United Nations children's agency UNICEF has said.
#Yemen: More than 1.3m people have been forced to flee their homes #YemenChildrenpic.twitter.com/AMQTVmkBaL

— UNICEF (@UNICEF) 29 Août 2015