Egypt announces October date for parliamentary election
Comments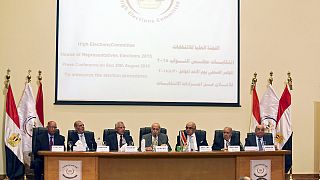 The date of Egypt's long-awaited parliamentary election has been announced by the country's election commission.
Voting will take place on October 18 and 19, with a second round on November 22 and 23.
The election had been due to begin in March but was delayed after a court ruled part of the election law unconstitutional.
The government says the election is proof of Egypt's commitment to democracy.
The country has been without a parliament since June 2012 when a court dissolved the democratically elected main chamber, dominated by the now-banned Muslim Brotherhood.
President Abdel Fattah al-Sisi, who as military chief toppled Egypt's first freely elected president, Mohamed Mursi of the Muslim Brotherhood, has wielded legislative authority to introduce economic reforms but critics have denounced widespread repression.
The army announced a "roadmap" to democracy in Egypt, the most populous Arab state and ally of Western powers.
However the period that followed has seen the toughest crackdown on Islamists in Egypt's history. Hundreds have been killed at street protests and thousands arrested.