Ukraine commemorates anniversary of 'massacre' at Battle of Ilovaysk
Comments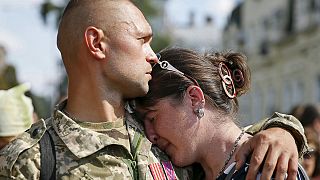 The first anniversary of one of the most important battles in Ukraine's eastern conflict has been commemorated in Kyiv.
A Ukrainian parliamentary commission estimates that up to 1,000 soldiers may have died in the Battle of Ilovaysk.
Ukrainian troops who entered the city found themselves surrounded by pro-Russian insurgents.
They negotiated a withdrawal along a humanitarian corridor – but the convoy came under fire from the separatists.
"My son was killed, he was a Maidan activist," said one woman who was among many relatives of the dead who attended the commemorations, along with the Ukrainian military.
"We came here to honour his memory and to receive a medal. Thanks to them, the dead soldiers. Glory to the heroes," she added.
The Ukrainian government described what happened at Ilovaysk as a massacre.
In turn Kyiv was accused of failing to protect its troops.
The authorities in Kyiv have instigated proceedings to try to bring to justice a top Russian general and other Russian military figures they accuse of responsibility.
The battle changed the course of events in the region, leading to the signing of the first peace accords at Minsk.