Hungary: Razor wire fence fails to halt migrant and refugee influx into EU
Comments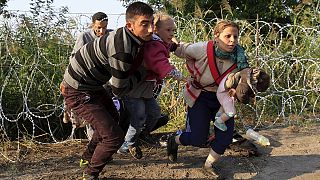 A relentless flow of desperate migrants continued to cross into Hungary on Friday morning, crawling underneath a razor wire fence on the border with Serbia.
The barrier and police reinforcements have failed to stem the flow of people entering the European Union.
Hungary is not their final destination but it is hugely significant as the gateway to Europe's visa-free Schengen zone.
A record number came through on Wednesday – some 3,241 people, including nearly 700 children.
Hungary's decision to build a fence has been widely criticised by aid groups., like Medecins Sans Frontieres.
Faced with human beings in need of help, #Hungary builds a fence, releases the hounds, & buries its head in the sand http://t.co/s1l78trC4m

— MSF Sea (@MSF_Sea) 26 Août 2015
As thousands more cross the sea from Turkey to Greece, then make their way across land – northwards through the Balkans – Europe's worst refugee crisis since World War Two looks set to continue.
Syrians fleeing the civil war and Afghans escaping their own country's violence account for many of the refugees risking their lives for a brighter, safer future- almost all hoping to reach the more affluent countries of northern or western Europe.
For a large number, that means Sweden or Germany, which expects a record 800,000 asylum-seekers and refugees to arrive by the end of the year.
The European Union as a whole is still struggling to manage this crisis, given different attitudes to migration by its member states.
Whatever the arguments, those still in the throes of a difficult, dangerous journey, simply want somewhere they can call home.
The map that shows how migrants' road to Europe represents danger at every turn http://t.co/QMVgYu389ypic.twitter.com/Xhr4BJH4AD

— The Independent (@Independent) 25 Août 2015