Supreme Court judge Vassiliki Thanou will lead Greece to elections
Comments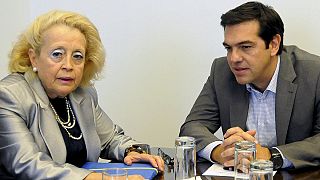 The head of Greece's new caretaker government has been named as Vassiliki Thanou, the country's top Supreme Court judge. The president's office said she will lead the country to elections which are expected to take place on September 20.
President Prokopis Pavlopoulos said he was obliged to appoint a caretaker administration after he failed to get party leaders to form a coalition.
Thanou is the Greece's first female head of government.
Her new government will be sworn in on Friday.
Vasiliki Thanou-Christofilou, President of Supreme Court, first #Greek female PM, albeit in caretaker govt. pic.twitter.com/vDX0AfexLa

— Bruno Tersago (@BrunoTersago) August 21, 2015
Thursday (August 27) was Alexis Tspiras last day in the office. He resigned as prime minister last week over a bailout rebellion.
Despite a U-turn to accept further austerity cuts as part of a third bailout programme, Tspiras remains hugely popular and is expected to win the election.
But he is not expected to get an absolute majority which would force him to find a coalition partner. Failing that, a second round of elections could be held.