India's 'sister-daughter' murder case darkens as socialite held
Comments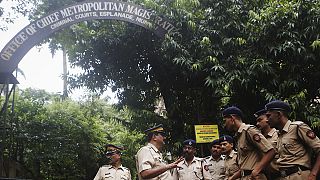 A high society murder investigation in Mumbai, India's largest city, is proving as intricate as many portrayed in fiction.
Now confirmed as chief suspect, Indrani Mukerjea was arrested on Tuesday night.
A son of her current husband (Peter Mukerjea, the former head of media and entertainment company Star India) Rahul Mukerjea was living with the young murder victim Sheena, who was the suspect's daughter.
According to the Times of India, 'Investigators are not ruling out the "honour killing" angle after it came to light that both Peter Mukerjea and main accused Indrani allegedly disapproved of the "relationship"'.
Although not biologically related, Rahul and Sheena Bora [she went be her mother's maiden name] became brother and sister when their parents married.
Sheena was killed by strangling. Her body was doused in petrol and burned, and her remains were dumped in a forest.
Alerted by the smell, villagers called the police.
That was more than three years ago.
This week, the mother's arrest came after a man claiming to be her former driver told police he was an accomplice.
One of Indrani Mukerjea's ex-husbands [she has had as many as four, one 'reportedly' unofficial] has also been arrested.
Mr Mukerjea has said he was led to believe that 24-year-old Sheena was his 43-year-old wife's sister.
He told India Today, "I am completely shocked by the information."
The accused had said Sheena had gone to the US to study in 2012.
Bandra Metropolitan Magistrate court in Mumbai ordered Indrani Mukerjea held until Monday, August 31.
The investigation continues.