US TV shootings: suspected gunman faxed 'suicide note' to ABC News
Comments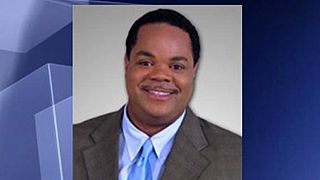 The man suspected of shooting dead two television journalists has died.
Rerporters Alison Parker and Adam Ward were shot during a live broadcast at a shopping complex.
The gunman has been identified as Vester Lee Flanagan. He shot and wounded himself after a police manhunt and was later found with life threatening injuries. He died later in hospital.
Flanagan has been described as a disgruntled former employee of the same television station: WDBJ-TV. Source say Flanagan used the on-air name Bryce Williams.
The television station says it has no information about a possible motive for the killings.
However, US network ABC News reported receiving a 23-page document by fax. The writer claimed "'MY NAME IS BRYCEWILLIAMS" and his legal name is Vester Lee Flanagan II"
The fax reportedly claims the trigger for the carnage was the author's "reaction to the racism of the Charleston church shooting."
According to the report, the fax reads:
"Why did I do it? I put down a deposit for a gun on 6/19/15. The Church shooting in Charleston happened on 6/17/15…"
"What sent me over the top was the church shooting. And my hollow point bullets have the victims' initials on them."
The network reported part of the document was called a "suicide note for friends and family."
The author of the fax claims to have suffered racial discrimination, sexual harassment and bullying at work. He says he has been attacked by black men and white females. He talks about how he was attacked for being a gay, black man, according to the ABC News report"
US shooting suspect posts video of incident on social media http://t.co/cQj3nvSpUcpic.twitter.com/lBEw6qVLuI

—

FRANCE

24 (@FRANCE24) August 26, 2015