Turkey: frustration and disillusionment after call for fresh elections
Comments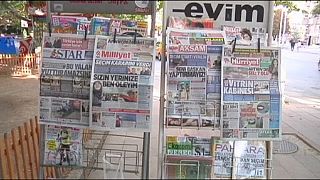 There is frustration and disillusionment in Turkey after President Recep Tayipp Erdogan called for fresh parliamentary elections.
The country's been left in limbo, after two months of talks failed to produce a coalition government ahead of a deadline.
"I am not optimistic about the election results. I don't think the outcome will change much. I think the uncertainty will increase," said one man in Ankara.
"This was untimely. I believe it would be better if they didn't take this decision."
Another man added: "I believe that this time they will come to their senses. It won't be easy. This time they will see the price for not forming a coalition government and they will find a common point and they will unite."
Erdogan was expected to ask the prime minister to form a temporary power-sharing government to lead Turkey to the election, slated for 1 November.
But these are untested waters and the main opposition CHP and the nationalist MHP have already said they will not take part.
The AKP, founded by Erdogan, lost its majority in June – the first time since coming to power in 2002.