Stock markets bounce back despite continued falls in China
Comments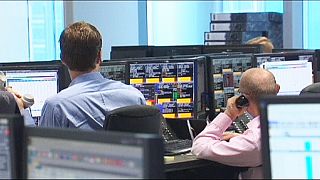 European and US stocks rebounded on Tuesday despite the continued sell-off in China that saw the Shanghai Composite Index lose another 7.6 percent.
By close of play London was up just over three percent, Paris rose just over four percent and the Frankfurt DAX put on just under five percent.
Still hoping to influence the markets through intervention Beijing cut the main interest rate by a quarter point to 4.6%, but it failed to stop the sell-off.
"We have to add that market growth has been huge since the beginning of the year", said Nathalie Pelras, Fund Manager for KBL Richelieu. "So it's a combination of a bull market and lack of investor visibility, and so that justifies why investors made a sell-off yesterday, because they do not want to be exposed to this lack of visibility."
Wall Street opened more than 2-percent higher, recouping
some of its losses from the previous day's sell-off, its worst in
four years.
The dollar also rose against most major currencies as traders read the Chinese interest rate cut as evidence that the government in Beijing is determined to maintain China's growth, increasing the chances of a hike in US interest rates.