France: Terror charge for train shooting suspect Ayoub el Khazzani
Comments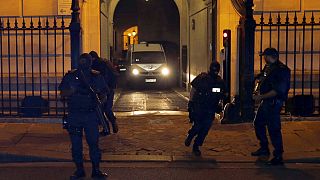 Suspected Islamist gunman Ayoub el Khazzani has been formally charged with attempted murder with terrorist intent.
Four days after being overpowered by passengers on a train between Amsterdam and Paris, he was brought before a French judge on Tuesday – blindfolded, barefoot and wearing blue hospital pyjamas.
In a news conference, Paris Prosecutor Francois Molins dismissed the Moroccan's claims that he was motivated by money.
"He said that when he got on the train he had no terrorism plan but simply intended to carry out an armed robbery," Molins told reporters.
"In his statements, which I deem far-fetched, he indicated that he planned to rob the passengers, then smash a train window and escape by jumping out."
Father of France train gunman: 'I can't believe my son is a terrorist' http://t.co/CV4oQKf4BVpic.twitter.com/Xh7rVWSKlf

— The Independent (@Independent) August 24, 2015
The prosecutor said el Khazzani watched a jihadist video on his phone just before the failed attack and had 270 bullets for his assault rifle.
And he said the 25-year-old went to Istanbul in May and may have travelled to Syria.
El Khazzani was wrestled to the ground by passengers, including two off-duty US servicemen.
Along with another American and a Briton, they were later awarded France's top honour by President Francois Hollande who said they had given "a lesson in courage".
French train attack: You averted carnage, Francois Hollande tells heroes http://t.co/Yjwcerq33qpic.twitter.com/eEf6H1zDnr

— The Telegraph (@Telegraph) August 24, 2015