Ukraine: 24 years of independence from Soviet rule
Comments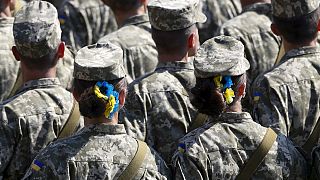 Ukraine is marking 24 years of independence from Soviet rule.
There have been ceremonies in the centre of Kiev, including a show of military might.
Happy Independence Day, Ukraine! Europe is free only as long as its people are free. pic.twitter.com/6sqkTrbIHC

— Taavi Rõivas (@TaaviRoivas) August 24, 2015
President Petro Poroshenko told the crowds Ukraine's independence is precarious, given the current state of play with Russia.
People in Kiev remain undaunted. "We are in our country, and we will defend it," said a military cadet. "This is a symbolic celebration for all the citizens of Ukraine, not just its soldiers. We became independent in 1991. I think the time will come when we finally celebrate another Independence Day or Victory Day."
"Although it is Independence Day, it is tinged with sadness," said a woman in the crowd. "It is possible to be sad and happy today at the same time. We have to remember these people are living in terrible conditions in the east of Ukraine. They are in our hearts."
Celebrations in the East?
In the eastern city of Donetsk, there is defiance.
Anti-Kiev protest held in Donetsk on Ukrainian Independence Day http://t.co/OoQMjr3nEUpic.twitter.com/YfZdEUeZuV

— Ruptly (@Ruptly) August 24, 2015
People in the city say Ukraine cannot be united, as Kiev is the lackey of western powers.
"They need to understand that we, Donbass, are united," said one woman, waving a banner. "We are already a united republic. We value our people, our children. They must keep their hands off our republic."
"I feel sorry for the Ukrainians as there are many things they do not understand," said another woman. "There are lots of things that just do not get through to them. Their impression of us is distorted. The lies are the worst part. Of course, it will all come out, one day."
Claim and counter-claim
President Poroshenko says Moscow has sent more troops to eastern Ukraine in the past few days.
He claims thousands of troops are massed along the border and several thousand have been sent into the country.
A spokesperson for the Russian government dismissed the claims.