EU hails Belarus prisoner releases as 'long-sought step forward'
Comments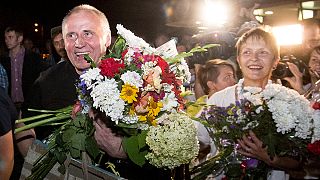 The EU has hailed the pardon and release of six jailed opposition figures by the veteran President of Belarus, Aleksander Lukashenko, as a "long-sought step forward".
"We now expect the authorities of Belarus to remove all restrictions on the enjoyment of full civil and political rights of the released," EU foreign policy chief Federica Mogherini and EU enlargement commissioner Johannes Hahn said in a joint statement.
Former presidential candidate Mikola Statkevitch is among those released, less than two months ahead of the next presidential poll in Belarus.
It is now too late for him to stand again.
"I didn't think Lukashenko would dare release me before elections but they are probably out of money," said Statkevich, in a likely reference to Western sanctions still in place over Belarus's human rights record.
"The opposition is in a stalemate situation today. And it is unclear what to do. That is why they have released me."
Lukashenko, who has ruled the former Soviet republic for over 20 years, is standing for a fifth consecutive term in October. His press
service said the pardons were motivated by humane principles.
Any such principles were in little evidence during the last presidential poll in 2010
Huge street demonstrations were dispersed by riot police. Several opposition candidates were beaten up and detained and dissenters rounded up.
Lukashenko, who a US top diplomat once said ran Europe's last dictatorship, is largely ostracised by Western governments because of his intolerance towards political opposition.
There have been small signs of a thaw this year in relations, with Lukashenko distancing himself from the policies of Russia – his country's biggest ally – towards neighboring Ukraine, and reviving contacts with EU and US officials.
The prisoner releases have also been welcomed by Germany which has raised the prospect of 'closer cooperation'.
#Germany welcomes release of Statkevich and other polit. prisoners in #Belarus. Could open avenue f closer cooperation @eu_eeas@BelarusMFA

— GermanForeignOffice (@GermanyDiplo) 23 Août 2015