Bloodshed in Beirut as anti-government protests turn violent
Comments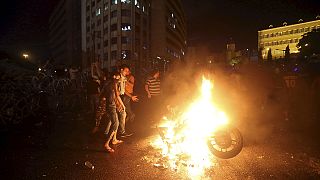 One person is reported dead and more than 70 injured after a second day of protests against Lebanon's government turned violent.
People have poured onto the streets of Beirut to denounce authorities' inability to find a solution to a crisis that started last month when the main refuse tip in the city closed.
As police clashed with protesters, Prime Minister Tammam Salam
warned that heavily-indebted Lebanon was headed towards collapse.
Threatening to resign, Salam, 70, said a bigger problem than the rubbish crisis was what he called the country's "political garbage". Lebanon's government is paralysed by deep divisions.
The premier also said that security forces found to have used excessive force against demonstrators would be brought to account.
New York-based Human Rights Watch say police have failed to uphold human rights standards and urged an investigation.
Lebanon, still rebuilding from its 1975-1990 civil war, has been jolted by spillover from the Syria war, including political violence and a flood of refugees.