UK: at least 7 dead, 'more bodies may be found' after Shoreham plane crash
Comments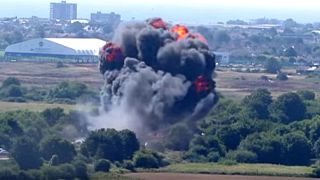 Seven people have died after a plane crash at Shoreham Air Show in West Sussex, south east England.
SECAMB confirm 7 fatalities from the crash at the Shoreham air show today. Thoughts are with the families and loved ones.

— SECAmb (@SECAmbulance) August 22, 2015
Sussex Police superintendent, Jane Derrick, said on Saturday evening that it was possible more bodies might be found, with the search of the wreckage set to continue through the night and into Sunday (August 22-23).
"It is possible that tonight and tomorrow we are going to find more bodies at the scene."
The pilot is in a critical condition.
The plane, a 1950s Hawker Hunter fighter jet, came down as it was performing a loop. Media reports suggest the aircraft stalled mid-manoeuvre.
Journalist Laura Raymond, who witnessed the crash, told euronews what she saw:
"We were watching the Hawker Hunter start its display. It did a big loop, we were watching from the top of a double decker bus, from probably half a mile away. Many of us thought that it was going rather low to the ground.
"And the next minute, there was a huge ball of fire and black smoke. And we knew that it hadn't come down within the airfield perimetre and that it must have come down on the A27 (road)."
Plumes of thick, black smoke could then be seen billowing across the sky.
The jet crashed over the busy A27 road, to the north of Shoreham airport, hitting several cars before coming to a stop in a nearby bush.
Shoreham crash: wedding limousine hit as jet smashes into major road, killing seven people http://t.co/wYaq4g5pk7pic.twitter.com/z8pE4xhpBj

— The Telegraph (@Telegraph) August 22, 2015
Some 20,000 people attended this year's event, organised by the Royal Air Forces Association.
The airshow will be closed on Sunday.
Tomorrow's airshow has been cancelled due to today's serious incident. A fuller statement will follow later. Please RT.

— Shoreham Airshow (@shorehamairshow) August 22, 2015
It's the second deadly incident at the Shoreham Air Show in eight years. In 2007, pilot and James Bond stuntman Brian Brown died when he performed an unplanned barrel roll in a World War Two Hurricane.
Images
Plane crashes at southern England air show, casualties reported http://t.co/cOJmPfj1RIpic.twitter.com/I3qOCj27Rw

— Haaretz.com (@haaretzcom) August 22, 2015
British airshow turns deadly after jet crashes onto highway http://t.co/NKWxrvLIffpic.twitter.com/ZzVNz1rLOv

— New York Post (@nypost) August 22, 2015