Passengers speak out about taking on France train gunman
Comments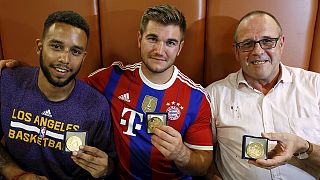 Several passengers intervened to overpower a heavily armed man on a French train on Friday evening.
The attacker had seriously wounded two people before being subdued by the passengers and arrested at Arras station.
Two US soldiers were among those who helped to try to subdue the gunman.
One of the American soldiers was seriously injured.
The other US soldier, Alek Skarlatos – together with American student, Anthony Salder, and Briton, Chris Norman – spoke to media about their role in overpowering the gunman.
Norman said: "It could have been real carnage and there's no question about that."
"I came to see my friends on my first trip in Europe and we stopped a terrorist, it's kind of crazy," said Sadler.
A British passenger was also seriously wounded.
French actor Jean-Hugues Anglade had light injuries from smashing glass to raise the alarm.
The incident took place on the high-speed Thalys service between Amsterdam and Paris.
The suspect is a 26-year-old Moroccan, according to police.
A French interior ministry spokesman said the motive of the attack was not known.