Major Italian rescue mission for 3,000 migrants adrift off Libya
Comments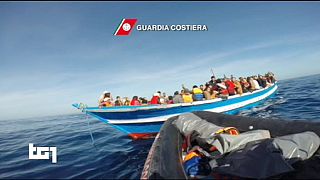 Some 3,000 migrants were on Saturday rescued off the coast of Libya, according to the Italian coast guard.
The coastguard received SOS calls from 18 vessels – four boats and 14 rubber dinghies – according to Italian news agency ANSA.
The rescue mission was one of the largest to date.
Two Italian naval ships and various other Italian vessels were called in – as well as a Norwegian military ship, part of an EU patrol mission
Meanwhile, police in the Sicilian city of Palermo have arrested six Egyptian nationals on suspicion of people smuggling after a rescue on Wednesday.
The arrests came after a rescued vessel was found to be carrying 432 people – more than ten times as many people as it was designed for.