Images released of Rodin sculpture thieves
Comments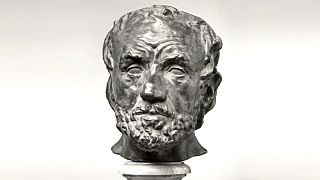 Over one month since the theft of French sculptor Auguste Rodin's "Man with the Broken Nose" from a museum in Copenhagen, police have released CCTV footage of the two chief suspects.
The images show the two men disguised as tourists on the day the 25.5cm bronze statue was stolen on July 16 and during another visit over a week earlier when the police believe they disabled the sculpture's alarm.
"It was a very professional job, very organised and there's the possibility there's an international connection," explained the Copenhagen police commissioner, Ove Randrup.They were in the museum, familiarised themselves with the workings of it and left everything prepared for the theft of the statue."
According to museum officials, it took the thieves 12 minutes to snatch the Rodin bust from 1863, which is worth over 260,000 euros.
"If somebody wants to sell art and get the best price then you have to put it on the international market," said Kasper Nielsen, an assessment and sales director from Bruun Rasmussen Auctioneers. "A lot of people are monitoring sales so when something pops up that's stolen, it is immediately discovered."
The thieves were able to walk away from the Glyptotek museum during opening hours without being stopped.
Both Interpol and Europol are involved in the search.