Rugby World Cup 2015: Draws for 2019 to be held closer to tournament date
Comments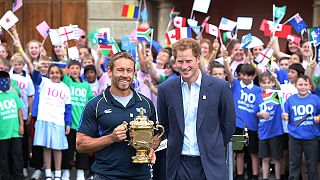 World Rugby officials revealed on Wednesday that future Rugby World Cup pool draws will take place closer to the actual date of the tournament to reduce the risk of three of the strongest nations occupying the same group.
The draw for the 2015 tournament, set to begin in under a month's time, was made in December 2012 when Wales suffered a last-minute defeat to Australia to drop out of the top-eight in the world rankings, and into the third pot of seeds.
The world rankings, which are used to determine the seedlings for draw, have changed dramatically since three years ago, with Wales moving up from ninth to sixth while England made a more minor shift from fifth to fourth. Australia remains in third place.
England, Wales and Australia would all expect, under normal circumstances, to make it through to the quarter-finals without difficulty, but this year's competition will only see two of the three able to advance to the knockout stages from Pool A.
"It did seem a long way out," said World Rugby chief executive Brett Gosper, of the 2015 draw. "You want it to be a true reflection, I guess, of the position at the time of the tournament."
"We'll look at that next time to see if it's possible to make that draw closer to the tournament."
"We're going to review what the ideal timing is. We would endeavour to make it a bit later (for the 2019 World Cup in Japan) but nothing's been decided at this point."
Gosper, speaking at an event marking 30 days until the start of this year's World Cup, also confirmed that teams who flout the sport's concussion rule will be subject to heavy fines levied by tournament organisers in an effort to make the game safer.
New Hawk-Eye "smart replay" technology, already used in tennis and football, will be employed for the first time at the World Cup to review fine-margin incidents, as well as provide medical staff with clear footage of clashes and injuries.
Gosper added that the Hawk-Eye technology could further be used to identify instances of foul play. With the video footage available to citing commissioners, the chief of the world governing body said the chances of catching cheating players would be higher than ever.
The video footage from the Hawk-Eye cameras will be shown uncensored on the big screens at match venues.
Rugby World Cup tournament director Alan Gilpin, last week confirmed that player welfare was the "priority for World Rugby," and would collaborate with host broadcaster ITV and Hawk-Eye to "enhance accuracy and speed" when making tough calls.
Gilpin said: "Extensive trials have been undertaken at World Rugby events, across the Pro 12 and other elite matches over the last 12 months and while we continue to test, we are pleased with the performance of the system, which delivers clear benefits for the match-official team, the medical team and for fans."