Merkel flies to Brazil for bilateral talks
Comments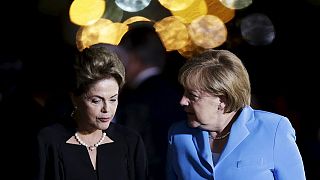 German Chancellor Angela Merkel has arrived in Brazil for a two day visit where she was met by President Dilma Rousseff.
The purpose is to strengthen relations but it comes as both she and the Brazilian leader are under political pressure.
Merkel is in the midst of an unprecedented rebellion within her own party over the Greek bailout and Rousseff's popularity is sinking.
Despite Brazil suffering high unemployment and an shrinking economy Merkel's administration seeks opportunities for around 1300 German companies already operating in the country.
The two leaders are also expected to make a declaration on the fight against climate change.