World Tango Festival and Championship kicks off in Buenos Aires
Comments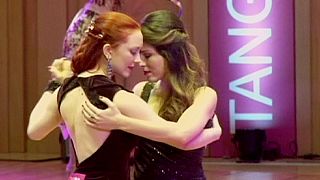 Salon tango dancers from around the world showed off their skills in Buenos Aires on Tuesday (August 18) as part of the World Tango Festival and Championship held annually in the South American capital.
For the salon tango qualifiers, pairs swirled and swiveled together on stage while under the discerning eyes of a panel of judges.
Italian tango dancer Giuseppe Riccobono said he was thrilled to dance in front of so many people.
"The idea is to experience new emotions, it's a new experience because you are competing with so many other pairs from all over the world. But it's not so much about the actual competition because we dance for ourselves, for the thrill of dancing in front of a large audience while getting judged," he said.
While tango is most commonly danced in mixed sex pairs, Rosalina Delfina from Germany/Austria and her Italian dance partner, Eleonora Niccocsi decided to break down the traditional boundaries and compete as an all women pair.
"It's using the same technique – perhaps the manner is different because we are two women and between men and women there are always other tensions than between two women or two men. But all is well, we were rehearsing and we didn't think about doing something 'unusual', apart from being a woman/woman pair," said Delfina.
Dancer Wushu Ardan, from Turkey, said that while she and her partner hoped to make it to the final they were also making sure to savour the whole experience.
"We want the final, like everybody, but it doesn't matter because it's really fun and enjoyable. We are really happy to be here," she said.
Buenos Aires, the global tango hotspot, is the birthplace of the nostalgic and impassioned dance which originated in the city's working class ports at the turn of the 19th century.
The World Tango Festival and Championship opened on August 14 and runs until August 27.