Calais migrant deadlock prompts new talks
Comments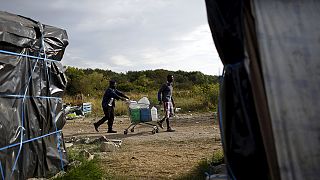 UK and French ministers are to meet this week (Thursday Aug 20) to agree a deal on tackling the migrant crisis at Calais and the Eurotunnel site where over the summer thousands have tried to enter Britain.
It comes as more then three times as many migrants last month were tracked entering the EU by irregular means than a year ago. The European Union's border control agency Frontex said that it had detected some 107,500 people arriving outside regular channels in July,
In the Former Yugoslavian Republic of Macedonia, thousands have been arriving from Greece following the so called Balkan route, hoping to continue their journey towards Western Europe.
Afghan migrant Najib Zazal told of the hardship facing those waiting for hours at the railway station in Gevgelia for trains to take them to Serbia:
"There is nothing, no facilities here, someone is sleeping on the train tracks, and someone is sleeping here in the sun, we have lots of children who are sick, there is no facilities for the children and for the sick people."
Migrants're crossing Macedonia legally & with tickets. Will the EU bomb railways network? https://t.co/5RQXskMPR2pic.twitter.com/PUbwDTOCur

— Nando Sigona (@nandosigona) August 17, 2015
In Italy police have arrested eight suspected human traffickers after 49 migrants were found suffocated in the hold of a packed fishing boat in the Mediterranean Sea last weekend.
The Mediterranean has become the world's most deadly transit point for migrants and refugees. More than 2,300 have died this year compared with 3,279 deaths during the whole of 2014. according to the International Organisation for Migration..