EU faces worst refugee crisis since Second World War - Migration Commissioner
Comments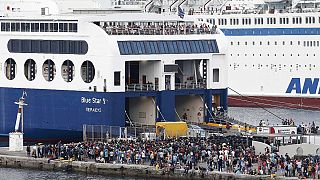 Migrants board a ferry for Athens after receiving travel documents on Kos.
Within sight of Turkey, the Greek island has seen increasing numbers of people arriving on its shores.
A cruise ship docked earlier on Friday to become a floating reception centre for up to 3,000 asylum seekers.
The sheer numbers arriving prompted the EU's migration commissioner Dimitros Avramopoulos to say that Europe is facing the worst refugee crisis since the Second World War. In a press conference he detailed how the EU would help Greece manage the crisis.
"Earlier this week the European Commission approved the national funding programme for Greece that amounted to 474 million euros. As the Greek prime minister confirmed already last week, Greece is setting up the management authority for these funds. Once it is formalised, the first disbursement of 30 million euros will be made immediately after."
The assistance couldn't come sooner for the island. Almost 2,000 Syrians were scheduled to leave Kos on Friday night, according to police.
However, 4,000 more remain camped out on the island and the mayor said around 800 were arriving each day.
UN figures show that 50 million people have been driven from their homes by violence in the Middle East and Africa.