Bodies of all 54 passengers recovered from Trigana Air crash
Comments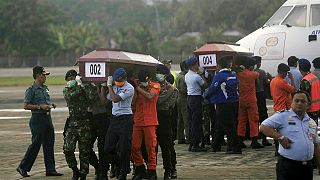 Indonesian officials say all 54 bodies have been recovered from the site of Sunday's (Auguat 16)Trigana Air Service plane crash.
Bad weather is believed to have been a possible reason for the crash although the age of the plane — it made its first flight 27 years ago — could be a factor.
The twin turboprop plane lost contact with air traffic controllers half an hour into its journey from the provincial capital, Jayapura, to the town of Oksibil.
Trigana has had 14 serious incidents since it began operations in the '90s. The company is on the European Union's list of banned carriers.
It is Indonesia's third major plane crash this year. In January an AirAisa flight went down in the sea killing all 163 people on board. In June more than 100 people died in the crash of a military transport plane.