Robotics a walk in the park with latest advances on display
Comments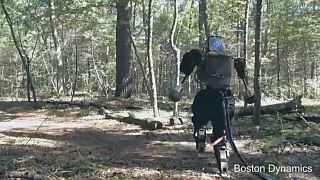 Boston Dynamics , one of Google's parent company Alphabet's hi-tech arms, has released video of its latest baby, the Atlas robot.
In the video the humanoid robot is seen taking a hike in a forest and jogging along nature trails. Equally at ease on smooth and rough surfaces, it can also navigate on its own, and can go off-trail to scramble around in the undergrowth.
Although in the video Atlas remains tethered to a human with a power pack Boston Dynamics says it is on track to let Atlas off the leash very soon.
Already he can do significantly better than this lot.
.
However we appear to be a long way from robots moving as well as this one does in "Ex Machina":
".
Like most robots seen so far Atlas is basically humanoid, although one of the more interesting variants seen recently is "Tars" from the hit movie "Interstellar"
Atlas was revealed to the tech community earlier this month at the FAB 11 conference in Boston.
The company says it is developing Atlas for humanitarian purposes although one of the project's main sponsors is the American military, and this latest version incorporates a variable pressure pump which allows it to be much quieter, and save energy.
It also has rotating wrists, so it does not need to rotate its forearm to open a door handle, and it is self-righting in the event of a fall.