Nigeria: girl, 9, writes book on terrorism after meeting displaced children
Comments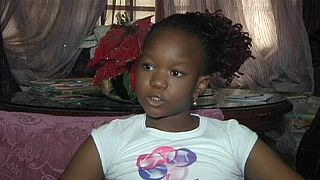 Splendour Joe Abisoye is no ordinary nine year old. A trip to a camp for displaced civilians in her country's north made such an impression on the young Nigerian that she decided to write a book about it.
Titled 'Effects of Terrorism on Children', the book details Splendour's conversations with children in the camp.
"I was influenced to write this book because of the happenings around us and the fact that terrorists we see today were once children like us. And if they were properly educated on this subject, they may not have ended up as terrorists," she explained.
Splendour's father, Joe King, said his family considered it important to help his daughter achieve her goal, no matter what the cost.
"At this point I will just say we have committed millions into it. Because the book is printed in Lagos and we looked at getting a copyright which we paid for, we have to get the graphic artist to have to do the cartoon on the book to be children friendly, for children to be able to read it and flow with it, it's part of (the) cost. And if you look at it again, the size of the book itself," he said.
800,000 displaced children
UNICEF estimates 800,000 children have been forced to flee violence as Boko Haram insurgents attempt to carve out a state adhering to strict sharia law in Nigeria's north east.
In 2014, the group abducted over 200 girls from a secondary school in a village near the border with Cameroon. The incident provoked a global outcry, but most of the girls have remained in captivity ever since.
Thousands have been reported killed and 1.5 million people displaced during Boko Haram's campaign.