Tired but delighted: more migrants wash up in Kos
Comments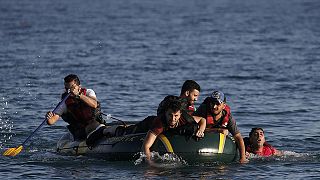 From a distance they almost look like holidaymakers, splashing about in the sea.
But Monday morning's dinghy-load brought the latest batch of migrants to wash up on the Greek island of Kos after crossing from nearby Turkey.
Like many, this particular group said they were from Syria. They want to travel to Hungary.
Among them, young men who gave their names as Reis and Mustafa said they were very tired after the four-hour journey – but they were happy to be alive and to have finally arrived in Greece.
Slowly the Eleftherios Venizelos passenger ferry sent to Kos last week has been taking migrants on board.
Syrians will be treated as refugees as they are fleeing the country's war.
Other migrants have complained of preferential treatment. The UN says almost all new arrivals in Greece are fleeing conflicts, including those from Iraq and Afghanistan.
The Greek authorities said around 1,000 were on the ship by Monday, while the coastguard reported that more than 2,000 migrants had been rescued from the eastern Aegean Sea.
"We are from Syria. We have a nasty war so we come here. After that we will go to Europe, Germany. Thanks for your country, thank you," said Mahmoud, a refugee.
The arrivals in Kos and other Greek islands will be put up in facilities described by the UN as totally inadequate.
But at least they have arrived safely on EU soil.
A ship has arrived in Sicily carrying over 300 migrants – plus the bodies of nearly 50 who died at sea.
To those who attack 'migrants' online. Look at this man, fleeing war in Syria, cradling his children. And rethink. pic.twitter.com/1pXEIGStvN

— Barry Malone (@malonebarry) August 16, 2015