Second bomb explodes in Bangkok after being thrown from bridge
Comments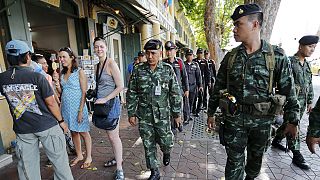 An explosive device blew up in a Bangkok river after being thrown from a bridge.
Police attended the scene but there were no injuries reported after the explosion threw up a tower of spray, according to local news reports .
Boat pier under Taksin bridge right now where another explosion took place. no one was hurt pic.twitter.com/xJ6DHn8Zkt

— Panu Wongcha-um (@panuw) August 18, 2015
Yesterday 22 people were kiled and more than 100 injured in an explosion near a popular tourist attraction in the city.
Colonel Natakit Siriwongtawan, deputy police chief of the Klongsan district said the situation could have been more serious.
"If it did not fall in the water then it certainly would have caused injuries," he said.