"Dilma out!" Tens of thousands call for impeachment of Brazilian president
Comments
By
Euronews
with
Reuters, New York Times, Forbes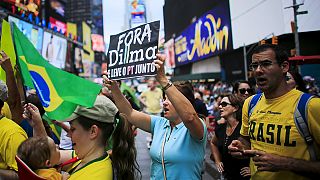 Brazil's third major demonstration of the year drew tens of thousands to Rio de Janeiro's Copacabana beach to call for the impeachment of President Dilma Rousseff.
Embroiled, although not implicated, in the country's biggest-ever corruption scandal, the left-wing leader
has seen her support wither to single digits in recent polls.
Local student Luiz Paulo Loureiro was among those calling for change.
"The opposition PSDB Party (Social Democratic Party – opposition to ruling Workers Party) is not leading this protest. This is a non-partisan demonstration, led by the people, not political parties. We are here, people from the right and the left. Indignant people, who want real change and want to see an end to a corrupt and lying government."
Suely Alencar, a resident of Rio, added:
"What I want is a better Brazil. I want the Brazilians to make a better choice in the next election because the ruling PT Party is over. There's no possibility of continuing with this government."
Rousseff has had a turbulent second term so far, after being re-elected in October 2014. A survey carried out in August show the poorest and least-educated Brazilians – the very people who helped her win re-election – are now calling the loudest for impeachment.
Rising unemployment and inflation have led to the country's worst economic downturn in a quarter of a century.