Lebanon: authorities detain hardline Islamist cleric
Comments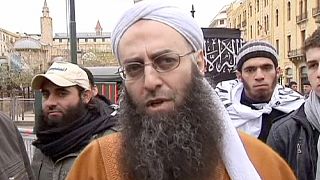 The authorities in Lebanon have detained a hardline Islamist cleric wanted in connection with a series of attacks on the Lebanese army.
Sheik Ahmed al-Assir was arrested at Beirut Airport as he tried to leave the country using a forged passport.
Lebanese security forces arrest fugitive hard-line Sunni cleric Ahmad al-Assir: http://t.co/z7TZ6PeMiz

— The Associated Press (@AP) 15 Août 2015
Assir rose to prominence with the onset of civil war in neighbouring Syria. The conflict has triggered instability in
Lebanon by exacerbating sectarian tensions between its Sunni and Shi'ite communities.
The background
12 Lebanese soldiers were killed in 2013 when they stormed a mosque complex belonging to Assir in the southern city of Sydon.
He faces charges including forming a terrorist organisation and inciting violence against the army.
Assir has, in the past, urged Sunni Muslims to defect from the Lebanese army.
He had been in hiding after being sentenced to death in absentia last year.