ISIL fighters may have used chemical weapons in Iraq, says US
Comments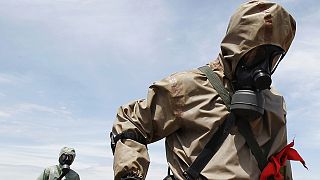 The United States believes fighters from the group calling itself Islamic State (ISIL) may have used mustard agent in a recent attack on Kurdish forces in Iraq. It's the first indication the group has obtained a banned chemical weapon, according to a report in the Wall Street Journal.
The newspaper quotes a senior US official saying, "we have credible information that the agent used in the attack was mustard."
A German defense ministry spokesman cited in the report said Peshmerga fighters in northern Iraq, reportedly suffered injuries consistent with a chemical attack while fighting ISIL.
The Syrian government admitted to having large quantities of mustard agent in 2013, when it agreed to give up its chemical weapons arsenal, according to the newspaper.
The White House's National Security Council said it was aware of the reports and was seeking more information.
"We continue to take these and all allegations of chemical weapons use very seriously," spokesman Ali Baskey said in a statement.
US intelligence agencies have said in the past they believed ISIL has used chlorine gas in attacks in Iraq, the Journal reported. Chlorine is not a banned chemical agent.
Breaking: U.S. believes Islamic State used mustard agent, a banned chemical weapon, on Kurdish forces in Iraq http://t.co/h1Q4E6lhzJ

— Wall Street Journal (@WSJ) August 13, 2015