Cuba: US flag to fly over embassy for the first time since 1961
Comments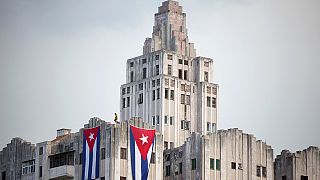 Last-minute preparations are underway for the historic re-opening ceremony of the US embassy in Cuba.
Three marines who lowered the flag for the last time 54 years ago will raise it again on Friday.
American Secretary of State John Kerry will be there to see the stars-and-stripes fly over Havana for the first time since 1961. He says it is a transformative moment: "It is not going to change overnight. We have not even been there to raise our flag yet. I think that as we begin the process compared to the 54 years of what has been going on, which is no progress, we will begin to see a transformation taking place."
Fidel Castro says US is close – but no cigar
Marking his 89th birthday in the company of Bolivian President Evo Morales and Venezuelan leader Nicolas Maduro, former Cuban leader Fidel Castro made no mention of the US embassy.
In an open letter, he said relations between the two countries will only be fully restored once the trade embargo is lifted.
The world's media are gathering for the occasion.
Euronews will bring you the ceremony live from Havana as it happens.