Cubans celebrate Fidel Castro's birthday, as US prepares to open embassy
Comments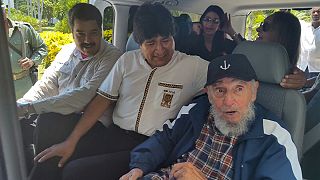 Cubans have been marking the 89th birthday of former president Fidel Castro, as the US prepares to officially open its embassy in the capital.
At one birthday concert in the capital Havana, the crowd chanted "long live Fidel."
The bearded leader, who was a constant presence and transfixed Cubans for decades with his fiery rhetoric, still holds a special place in the hearts and mind of the Caribbean island's 11 million residents.
Fidel even has a special photo exhibition dedicated to him at the Jose Marti memorial in Havana.
He has used his birthday to repeat assertions that the US owes socialist Cuba "numerous millions of dollars" for damages caused by a decades-long embargo.
US Secretary of State John Kerry is due in the capital, to raise the American flag at its embassy – marking the restoration of diplomatic relations after years of hostility.
Washington severed diplomatic ties with Castro's government in 1961, three months before the failed Bay of Pigs invasion by US-armed Cuban exiles.
Last December, US President Barack Obama announced he would use his executive powers to move toward more normal relations with Cuba after the standoff.