Anti-austerity protests in Athens ahead of crunch bailout vote
Comments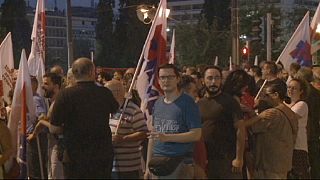 Thousands of protesters have been out on the streets of Athens, ahead of a crunch parliament vote on a controversial bailout deal which will bring tax rises and spending cuts.
The vote will test the strength of a rebellion by anti-austerity SYRIZA lawmakers, which could ramp up pressure on Prime Minister Alexis Tsipras to call elections as early as September.
Tsipras says he has no option but to implement the tax hikes and spending reductions.
"I'm against the new measures that the government is presenting through the back door. The working class voted no by 61.5 percent in the referendum," said one woman in the Greek capital.
Another added: "The solution for Greece is to leave the EU, so that the country's wealth returns to our hands. We need food, a decent health system and education."
The 85-billion euro bailout for Greece is the third rescue deal in five years.
"The bailout has triggered a strong reaction. The impact is huge, not only inside SYRIZA, which is edging towards a split, but also in society. The possibility of snap elections seems closer than ever," said euronews correspondent Konstantinos Tsellos in Athens.