Turkey blames Kurdish militants for outpost attacks
Comments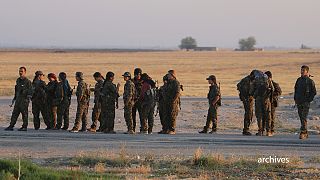 Turkish officials say Kurdish militants attacked five military outposts in eastern Turkey in the past 24 hours.
The country's army said seven militants from the Kurdistan Workers Party, or PKK, were killed.
The PKK, designated as a terrorist group by Ankara, the US and the, EU, has not claimed responsibility for the attacks.
Turkish President Recep Tayyip Erdogan said on Wednesday that there would be no concessions in the offensive against Kurdish militants.
Hostilities between both sides resumed last month after a 2013 peace deal held for nearly two years.
Turkey's campaign against the PKK is being waged at the same time as Ankara is being urged to step up its campaign against ISIL.
Kurdish rebels are also fighting the radical militant group in Syria and Iraq.
On Wednesday, from a base in Turkey, the US began its first manned airstrikes against the so-called Islamic State.