Sweden drops two sexual assault cases against WikiLeaks' Assange
Comments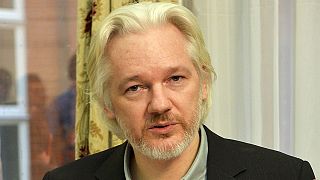 Prosecutors in Sweden have dropped two sexual assault cases against WikiLeaks founder Julian Assange.
Five years since two women made the allegations against Assange, which he denies, time has run out to question him under Swedish law.
Assange claimed political asylum at the Ecuadorian embassy in London in June 2012.
He wanted a guarantee from Sweden they would not hand him over to the US to face espionage charges.
"The decision was expected since the statute of limitation has run out, but of course it's deeply regrettable that it has come this far and it raises a whole lot of questions around how the prosecution has dealt with this case," said Assange's Swedish defence lawyer Thomas Olsson.
An allegation of sexual molestation will expire on Tuesday, but an investigation into an alleged rape can continue until 2020.
Swedish law states no charges can be brought without interviewing the accused first.
These alleged events, which Assange denies, also took place in August 2010.
Swedish prosecutors are now in talks with Ecuadorian diplomats to interview Assange at the embassy.