More migrants arrive on Greek island of Kos
Comments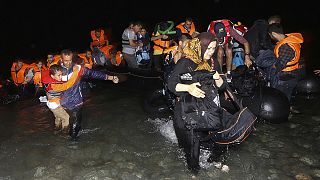 Dozens of migrants have arrived on the shores of the Greek island of Kos as authorities there struggle to cope with the influx of those fleeing their home countries.
Tens of thousands have crossed into Greece from Turkey.
The alternative route into Europe – via North Africa and through Italy – is becoming increasingly dangerous owing to the fighting in Libya.
"We are all graduated from universities - they are doctors,graduated from economy, medicine. We are all students and graduates, but there is nothing now Aleppo. there is just war, just bombs. We left Aleppo to live our life," said one young migrant.
Fleeing for their lives, the migrants arrive on Greek shores using inflatable rubber dinghies or makeshift boats.
The conditions are dire.
"Children were so tough - so tough. No water, no food. they were all tired and there was screaming all the time. Six hours screaming," said one man who made the journey.
The Greek government says it will step up security in Kos after scuffles between migrants and police over the past two days.