Dozens dead as ISIL claims responsibility for Baghdad bomb blast
Comments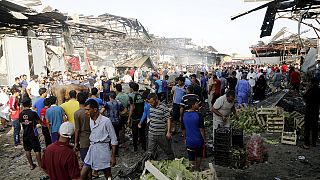 The militant group Islamic State says it carried out a truck bomb attack in the Iraqi capital of Baghdad, which killed more than 60 people.
The bomb hit a busy market in the largely Shi'ite Sadr City district of the city.
As many as 200 were injured, according to a Reuters news agency report.
Witnesses said the explosion happened just after 6 am local time (5:00 CET)
The radical Sunni organisation, also known as Daesh, has targeted the area a number of times in recent months.
It seized parts of northern and western Iraq last year and currently holds one third of the country's territory.
The bombing is believed to be the largest terror attack since Prime Minister Haider Al-Abadi took office in August last year.
Al-Abadi has repeatedly vowed to "eradicate" Islamic State from the country.