One dead and 50 hurt in clashes between police and strikers in Peru
Comments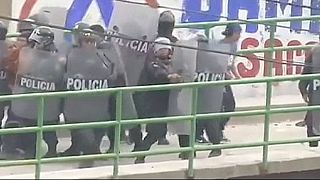 In Peru clashes between police and striking miners left one person dead and around 50 more injured.
Activity at the La Oroya complex,185km west of the capital Lima, ceased in 2009 over environmental concerns and mounting debt.
Protesters are calling for more flexibility in the law to allow it to reopen.
Residents and miners threw stones at police who responded by firing shots and tear gas.