Migrant influx hikes demand for temporary buildings in Europe
Comments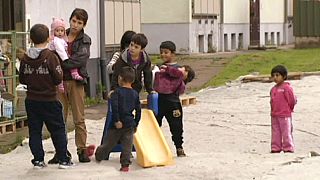 Large numbers of migrants arriving in Europe have been heading for Germany. Struggling to source enough accommodation, authorities are putting up temporary buildings.
Some of the structures are being sourced from outside the country.
A Czech plant, which manufactures temporary accommodation, is struggling to keep up with demand.
Around a third of its products are destined for Germany this year.
"Our annual production capability is 75-thousand square metres of space," explained Jan Petr, Marketing Director of Touax Group.
"The city of Hamburg alone needs or had planned until the end of the year to open refugee housing and living quarters with a space of 60-thousand square metres."
Meanwhile, a ghost town in Germany is also accommodating dozens of migrants.
Kerpen-Manheim, near Cologne, was all but abandoned because of mining plans, but now it has been given a new lease of life.
Serbian Leonardo Spasic is one of those now living in the town.
"I feel good here. And I don't care whether I have neighbours or not. I feel safe here," he said.
"I have a place to sleep and don't have to sleep in the street. I am very thankful for what I have and happy that I can live in peace here with my family."