Yemen 'crumbling' under humanitarian crisis: ICRC chief
Comments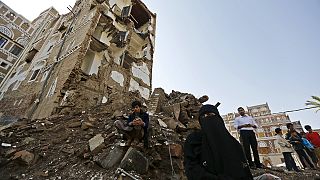 Yemen is "crumbling" under a deepening humanitarian crisis after months of civil war, the head of the International Committee of the Red Cross said on Tuesday.
Peter Maurer, the head of the Geneva-based humanitarian organisation, also called for all parties to negotiate a peace deal at the end of a three-day visit to the country on Tuesday.
"The humanitarian situation is nothing short of catastrophic," he said.
"Medicines can't get in so patient care is falling apart. Fuel shortages mean equipment doesn't work. This cannot go on. Yemen is crumbling. As a matter of urgency, there must be free movement of goods into and across the country."
Fighting between Iran-allied Houthi forces and pro-government militias has raged since March when the Houthis advanced towards the port of Aden.
Iran denies that is supplying the Shiite Houthis with military aid.
A Saudi-led coalition has been carrying out air strikes since March in a bid to help pro-government forces restore President Abed Rabbou Mansour Hadi, in exile in Riyadh, to power.
Meanwhile on Tuesday, Yemeni military officials said the so-called "Popular Resistance Committees" had seized the town of Utmah, some 100 kilometres south of Sana'a.
The group is made up of pro-government fighters, Sunni tribes, and southern separatists known as the Southern Resistance.
The International Committee of the Red Cross says that nearly 4,000 people have been killed and 1.3 million forced to flee their homes during the conflict.