Ukraine: claim and counter-claim as the shelling continues
Comments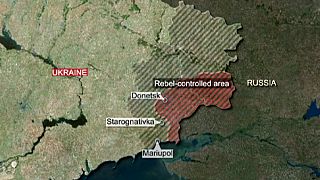 *Ukraine has accused pro-Russian rebels in the east of carrying out the heaviest military attacks on government positions in six months. *
They are killing us like dogs
Officials are warning that the conflict is escalating despite a ceasefire deal being in place
400 rebel fighters, backed by tanks, attacked government forces around the village of Starohnativka, 60 kilometres north of the Kiev-held city of Mariupol.
This has been denied by fighters in Donetsk.
OSCE

arson attack condemned
Terrorist arson attack on independent observers. The night than in #Donetsk burned the #OSCE cars. pic.twitter.com/9V7zcwgOL5

— Onlinemagazin (@OnlineMagazin) 9 Août 2015
There has been international condemnation of an arson attack that destroyed four vehicles in Donetsk belonging to OSCE monitors.
February's ceasefire deal has failed to stop the violence in eastern Ukraine.
Both sides accuse the other of violating the agreement. Damage spreads and casualties, both military and civilian, are reported daily.
"They are killing us like dogs," said one woman as she picked through the debris of her house. "They have been shelling us day and night since the 25th of July. Yesterday they started at eight thirty and finished at four."
Kiev says shelling by rebels over the last 24 hours is the worst its been since the ceasefire deal was signed seven months ago.
Separatist commanders, however, have denied attacked government troops and have accused Kiev of intensive bombardment.