OSCE monitoring mission vehicles torched in eastern Ukraine
Comments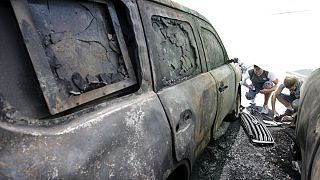 Four armoured vehicles belonging to the OSCE monitoring mission in Ukraine's eastern conflict zone have been torched in an apparent arson attack.
The Organisation for Security and Cooperation in Europe monitors the implementation of a much-violated ceasefire – and has faced increased hostility in recent weeks.
"This is the last of a series of incidents affecting the security of the OSCE and its property. It seems that this sort intimidation is aimed at stopping OSCE from reporting what is going on in the area," said Alexander Hug, deputy head of the OSCE's Monitoring Mission to Ukraine.
"I have to make it clear that the OSCE mission to Ukraine has no intention at this stage to withdraw from Donetsk."
The attack comes just days after a protest outside the OSCE's hotel in Donetsk, criticising what demonstrators described as the "silence and blindness" of the mission.
The OSCE has accused both separatists and Ukrainian troops of failing to respect the ceasefire – brokered to end a conflict in which more than 6,500 people have been killed.