State of emergency declared in Ferguson as protests turn violent
Comments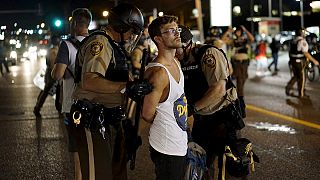 Authorities in Ferguson, Missouri declared a state of emergency on Monday amidst ongoing demonstrations to mark the death of black unarmed teenager Michael Brown, who was shot dead by a white police officer a year ago.
Activists across several US cities are using the anniversary to keep up the pressure over the treatment of black and other ethnic groups by the police.
The real heroes are the people of #Ferguson! Thank you for showing us how to fight for Black life. #MikeBrown means you have to fight back!

— Black Lives Matter (@Blklivesmatter) August 9, 2015
Protesters descended on the St Louis courthouse, which was surrounded by police.
Around 50 demonstrators were arrested.
Tensions have been further heightened after peaceful protests on Sunday turned violent.
Police say gunfire broke out between two groups of agitators and that one man, 18 year-old Tyrone Harris, opened fire on officers and was subsequently shot and critically wounded.
He has been charged with assault on law enforcement, but his father disputes the police story and says his son did not have a gun.
The authorities described the gunmen as "criminals, they weren't protesters".
Four police officers have been placed on administrative leave.