Migrant crisis: Refugees shelter in Athens park
Comments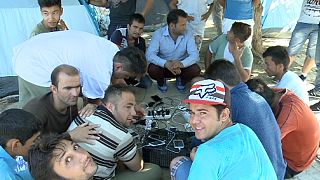 A park in central Athens has turned makeshift camp for hundreds of migrants.
Around 500 refugees have set up in the shade of the trees of Pedion tou Areos in the Greek capital.
Many of them see it as a temporary stop on their way to other EU countries. Some are hoping to meet up with relatives further north, as they flee the harsh realities back home.
"We have a lot of problems in Afghanistan. You don't know.. For example, you don't know.. Why so persons are killed.. We have Taliban, Daesh".
City authorities have begun building houses to relocate the refugees. However, with 50,000 migrants arriving in Greece in July alone, longer term solutions are called for.
From euronews' Athens bureau Apostolos Staikos asks "The approximately 500 immigrants will be moved from the park and they will have a roof over their head. But what comes next? What will happen with the next group which will come to Athens?
The number of people arriving on the Aegean islands is rising dramatically, and the country is unable to take care of so many refugees."
It should be clear by now, that the issue concerns not only Greece and Italy, but all European countries."
Immigration has divided the EU. On Monday the European Commission announced 2.4 billion euros in aid to countries dealing with the migrant influx. But a suggestion to distribute migrants according to a quota system has met with much resistance, to the dismay of socialist MEP Hannes Swoboda.
What kind of European Union (!) is it, where some national governments are actively declining to accept a minimum of refugees.

— Hannes Swoboda (@Hannes_Swoboda) August 11, 2015